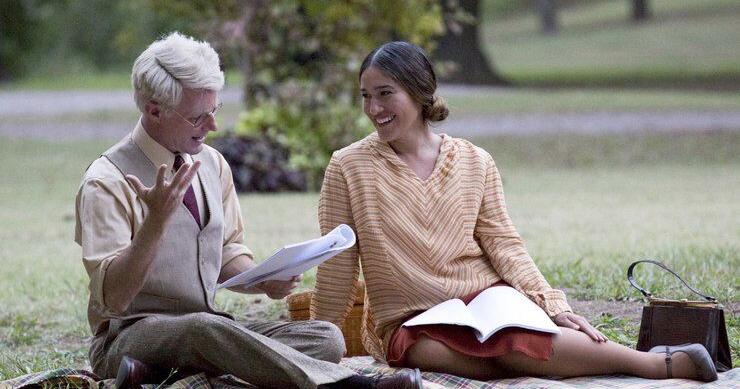 Chickasaw Nation Productions shares the story of the first American artist | Local news
[ad_1]
In the movie "Te Ata", Chickasaw Nation Productions films the life and times of historical figures Mary Frances "Te Ata" Thompson Fisher, Chickasaw Nation Governor Douglas H. Johnston and Dr. Clyde Fisher, among others.
The independent production company aims to preserve and share the stories of the Chickasaw people – in this case, one of the most successful early American artists in American history.
Born in Indian Territory and raised on the songs and stories of her Chickasaw culture, Te Ata's journey to find her true calling has taken her through isolation, discovery, love and a career on stage that culminated in performances for a President of the United States, European Royalty and audiences around the world. Yet of all the stories she has shared, none is more inspiring than her own.
A star cast has come together to bring Te Ata's story to life, including Q'orianka Kilcher, Mackenzie Astin and Graham Greene.
Q'orianka Kilcher
Te Ata embraced her culture and heritage by crossing cultural barriers and became one of the greatest American performers of all time.
To tell their story on film, Chickasaw Nation Productions needed someone who embodies many of the same talents and characteristics as artist Chickasaw. Q'orianka Kilcher was a natural fit.
At the age of 14, Kilcher played Pocahontas alongside Colin Farrell and Christian Bale in Terrence Malick's Oscar nominated film "The New World," an epic about the meeting between English and American society in the early years. 1600.
Some of Kilcher's other credits include the title role in "Princess Kaiulani", the award-winning "Sons of Anarchy" TV show, as well as "Longmire," "Shouting Secrets," "Firelight," "Neverland" and "Yellowstone. Kilcher both starred in and produced the movie "The Power of Few".
In addition to acting, Kilcher is an accomplished singer and songwriter, as well as a committed human rights and environmental activist and organizer. She has used her public voice to advocate for the voiceless and many of today's most important and relevant causes and issues.
His philanthropic and advocacy work has earned him numerous national and international nominations, awards and accolades, including the Young Hollywood Green Award, the Gandhi Award and the prestigious Brower Youth Award.
Since the age of 16, Kilcher has maintained a commitment to Indigenous rights and activism for environmental justice, as well as grassroots organizing. His character and his dedicated work for Indigenous rights and environmental justice in the Amazon was one of James Cameron's original inspirations in creating his lead character "Neytiri" for his hit film "Avatar". Her activism has also won the respect of many notable indigenous leaders such as Nobel Peace Prize laureate Rigoberta Menchu, Bolivian President Evo Morales and indigenous leader Alberto Pizango.
Kilcher frequently lends her fame, voice and energy as a representative and contributor to many notable organizations, such as Amnesty International, Greenpeace, Amazon Watch and AIDESEP. She has spoken on a wide range of topics at international conferences and panels, including the Harvard Leadership Conference, the United Nations' Declaration on the Rights of Indigenous Peoples, the International Youth Media Summit, the International Forum on Globalization (IFG), Women's Rights by Amnesty International. and conferences on youth leadership in various countries.
Kilcher is the founder of the on-Q Initiative, Youth4Truth media and Action Hero Network, a collaboration of many small organizations, projects and "Everyday Action Heroes" within our communities who she believes are the real frontline soldiers for change. effective. In his spare time Kilcher enjoys making music and is currently recording a much anticipated album of his original songs.
Graham Greene
Graham Greene portrayed Chickasaw Nation Governor Douglas H. Johnston in Chickasaw Nation Productions' feature film "Te Ata". Governor of the Chickasaw Nation Douglas H. Johnston was the first governor of Chickasaw to be appointed by the President of the United States in 1906. He was governor for over 30 years until his death in 1939.
Governor Johnston's administration achieved several legal victories that helped the Chickasaw Nation prosper.
Greene's many credits include "The Crackwalker," "Jessica," "History of the Village of the Small Huts," and "Dry Lips Oughta Move to Kapuskasing," for which he won the Dora Maver Moore Award for Best Actor.
Greene starred in "Dances with Wolves," which won an Oscar nomination. Since then, his many film credits include "Die Hard with a Vengeance", "North", "Green Mile", "Maverick" and "Snow Dogs".
His many TV credits include "Exhibit A," "Rocket Science," "Wolf Lake," "The Red Green Show," "North of Sixty," and "Dudley the Dragon," which earned Greene two Gemini Awards and a role. recurring in the original Netflix drama, "Longmire".
Some of Greene's other projects include "Spirit Bear", "We Are Boats", "The Shack" and "Wind River".
Greene lives outside of Toronto with his wife, Hilary, where he continues to write, build boats and work in the entertainment industry.
Mackenzie astin
Mackenzie Astin grew up acting in his blood. The youngest son of actors Patty Duke and John Astin, he entered the family business at the age of 9 and found early success on the iconic '80s TV show "The Facts of Life", where he spent most of four seasons.
As an adult, his work broadened to include more complex and dynamic characters, including roles in some of today's most exciting shows – "Scandal," "Shameless," "House" and "Lost" among them.
Still an enthusiastic participant in independent cinema, Astin's other works include "Lonely Boy", "Welcome to the Men's Group", "Moments of Clarity" and more.
In "Te Ata", Astin is chosen to play Te Ata's husband, Dr. Clyde Fisher. Fisher is recognized as the "Father of Astronomy" in the United States. He was the curator of the Hayden Planetarium in New York City and focused on making astronomy visually stimulating and learning for children of all ages. He met Te Ata in New York and married her in 1933. They were married until his death in 1941.
Astin also stars as Lieutenant Pratt in the epic western "Montford: The Chickasaw Rancher," based on the life of historic Chickasaw breeder Montford Johnson.
The story of Te Ata
Mary Thompson Fisher was born on December 3, 1895, near Emet, Oklahoma. Fisher later took the stage name and became well known as "Te Ata", which means "morning porter". A citizen of the Chickasaw Nation, Te Ata was an accomplished actor and storyteller of early American stories.
At the height of her 60-plus-year career, she presented a unique one-woman show on the heritage and culture of early Americans in England and Scandinavia, at the White House for President Franklin Roosevelt, for King and the Queen of Great Britain, and on stages across the United States.
Although Te Ata worked as an actress and drama teacher, she is best known for her artistic interpretations of early American stories and for her children's book on the subject which she co-authored.
Te Ata first learned the beauty and wisdom of First American culture from her father, Thomas, who told her a variety of First American stories, and from her mother, Bertie, who taught her about useful and medicinal plants. .
She attended Bloomfield Academy and graduated from Tishomingo High School. While it was unusual at the time for a woman to go to college, Te Ata got her mother's support to attend the Oklahoma College for Women (OCW) in Chickasha.
Francis Dinsmore Davis, professor of drama and expression at OCW, recognized Te Ata's talent and encouraged her to pursue a career in theater. After graduating in drama, Te Ata continued his education at the prestigious Carnegie Institute in Pittsburgh, Pennsylvania.
Te Ata then moved to New York City, where she appeared in several Broadway productions. Upon arriving in New York City, Te Ata stayed at the Three Arts Club, a boarding house for aspiring actresses. Most performances of Te Ata in the early 1930s were in summer camps for inner city children.
Te Ata rose to fame for telling the stories of early American tribes, not limited to her own Chickasaw stories. As her popularity grew and her performances became more frequent, other tribes sought her out to tell the stories of their heritage. Te Ata kissed them all.
Te Ata died on October 26, 1995 in Oklahoma City, although her legacy and influence on early American storytelling traditions continues to this day.
She was inducted into the Oklahoma Hall of Fame in 1957 and the Chickasaw Hall of Fame in 1990. Te Ata received the Oklahoma Governor's Arts Award in 1975 and declared Oklahoma's first "State Treasure" in 1987.
The film "Te Ata", starring Q'orianka Kilcher, tells her story of breaking down cultural barriers and changing public perception during a historically rich career spanning the 1920s to the 1980s.
About "Te Ata" the feature film
"Te Ata" features a star cast including Kilcher, Greene and Astin as well as Gil Birmingham ("Twilight", "Yellowstone" and "Hell or High Water"); Brigid Brannagh ("Army Wives" and "Runaways"); Mackenzie Astin ("Wyatt Earp", "Windsor" and "Montford: The Chickasaw Rancher"); and Cindy Pickett, originally from Oklahoma ("Ferris Bueller's Day Off" and "The Guiding Light").
In 2014, the Chickasaw Nation began telling the story of Mary Francis "Te Ata" Thompson Fisher. This feature film made about his life depicts the events of Te Ata's journey to glory.
The film follows the youth, education and career of Thompson, who married famous astronomer Dr. Clyde Fisher in 1933. He was curator at the American Museum of Natural History and later director of the Hayden Planetarium in New York City.
The film is now streaming on Netflix. The film can also be purchased on DVD / Blu-ray. For more information, visit TeAtaMovie.com.
[ad_2]