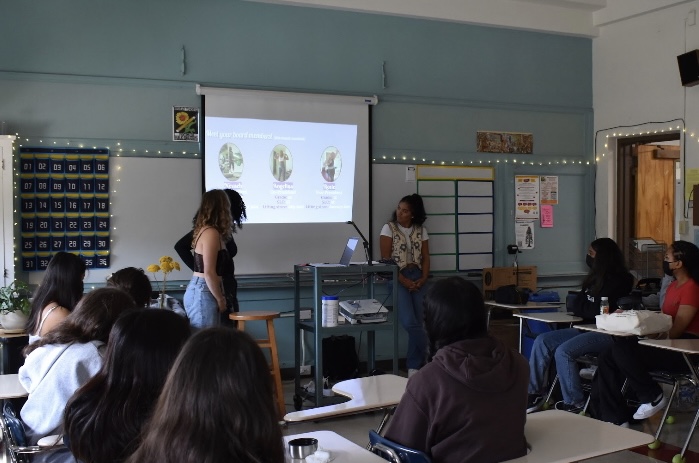 Cultivating Contemporary Student Discussions — Berkeley High Jacket
Periodic Education Club
Empty vending machines and expired vintage products are just a few of the obstacles menstruating people face at Berkeley High School. The stigma surrounding periods and the lack of information about them can also make having their first period a stressful experience for some people. The Period Education Club, founded and led by Elodie Chinn and Edith Galvagna, seeks to create a space for conversation about periods and works to improve the accessibility of menstrual products in Berkeley.
Chinn was motivated to start the club after multiple experiences over the past school year where their teachers refused to give them permission to leave class while on their period. "It was after the first 10 minutes of class and no one had come out. … So I said, 'I have my period, it's really an emergency. I have to go to the bathroom and clean myself up,' and (my teacher) was very reluctant," Chinn said.
Chinn and Galvagna plan to spend the club's first few months sharing resources and personal stories, as well as talking about how to de-stigmatize the rules. Later in the year, they would like to give presentations to elementary and middle school classrooms as well as fundraise to donate vintage merchandise to those in need.
The Vintage Education Club meets Thursdays at lunchtime at H103.
girls who lift
Girls Who Lift aims to create a tight-knit community for people who don't feel comfortable in the gym. The club, led by Nevaeh Angel, Angelina Thomas and Rosie Tomin, debuted with an Instagram post. "I didn't think anyone else would want to help me start the club," Thomas said. "But I posted something on my Instagram story about the gym…something, and then Nevaeh, she replied, and she was like, 'Oh my God, I wanted to start a gym' weightlifting for girls!' "
The club also hopes to empower people to lift weights to improve their mental health and physical fitness, rather than for looks or ego alone. "I want to see the women and girls at Berkeley High start looking at weightlifting as a sport or a way to build strength instead of how I started out which was losing weight and getting lean" , Thomas said.
The club meets Mondays at lunchtime at C206. There, they teach beginners the basics of weightlifting and help them feel confident in the weight room. Later in the year, club leaders plan to use the BHS weight room to work on form, and in conjunction with their sister club, Female Athletes Strength and Conditioning.
Ultimately, the club hopes to provide a space where people can lift and talk about lifting away from the male-dominated energy often present in the gym. "I hate to see this because I think it also scares people – women – (from) joining the weightlifting community because they're afraid of being judged," Tomin said. "It's not a competition and I think a lot of people have been doing that, 'Oh, I can lift heavier than you', and I think it's a personal journey and it's about how how it affects you."
Outer Space Club
On campus green, where the club fair was held on September 8, the Outer Space Club literally stood out, with its 10-foot-tall omnidirectional radio receiver standing taller than any other object there. This year's club president Quincy Paulos and vice-president Quinn Schwartzburg are aiming for the stars — or at least looking at them.
Outer Space Club, which meets Wednesdays over lunch at G203, is a club for all things astronomy, rocket science and space. Aiden Blair, the project coordinator for the Physics Club, was intrigued by the club's fairground antenna, which was receiving an image from a satellite broadcasting to Earth. "When I followed, (it turned out) this whole project was created in two weeks," Blair said. "So I was really, really impressed with what the Outer Space Club had done before it even really became a club and wanted to put my skills to good use to do some cooler projects." Blair also knew Paulos which further contributed to their decision to join the club.
Each club meeting begins with a short newsletter containing space news, followed by free discussion time on the topic. Paulos and Schwartzburg also plan to have meetings outside of school, where they would visit an observatory or work on a long-term project in addition to weekly meetings.
"Maybe we could launch a weather balloon that we could follow across the United States, or just design model rockets," Schwartzburg said. "It's really up for discussion, but I'm hoping to get into some sort of more intensive program like this."