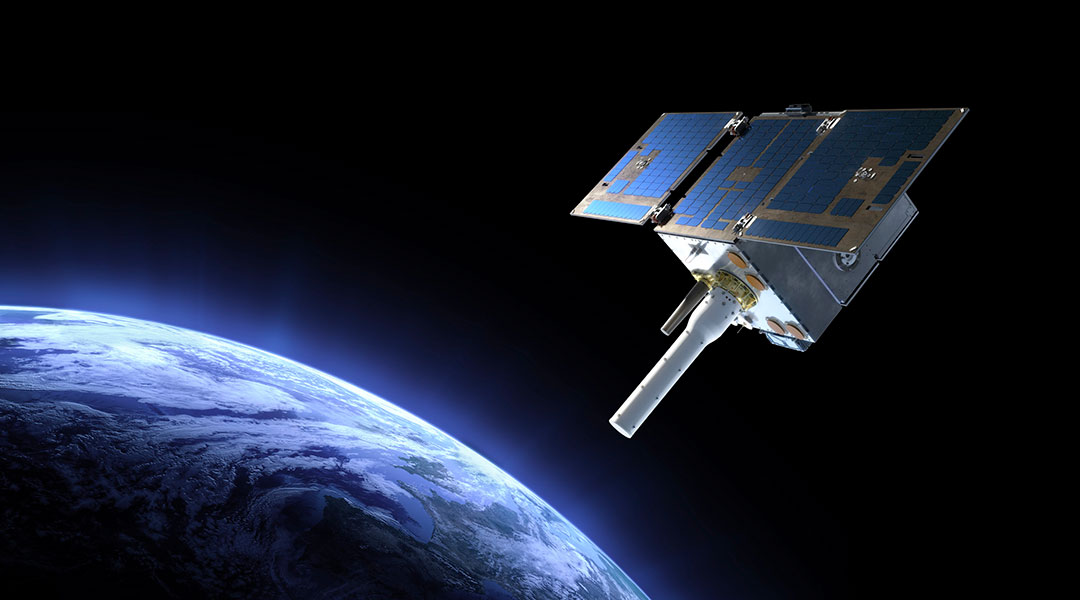 General Atomics satellite with Argos-4 onboard payload completes environmental testing for launch
SAN DIEGO – July 27, 2022 – General Atomics Electromagnetic Systems (GA-EMS) today announced that it has successfully completed environmental testing of its satellite platform and integrated the Argos-4 hosted payload for launch in fall 2022. GA -EMS is delivering the spacecraft as a Hosted Payload Solutions (HoPS) Mission Delivery Order for the Argos Advanced Data Collection System (A-DCS) assigned to GA-EMS by the United States Space Force, Space Systems Command, on behalf of the National Oceanic and Atmospheric Administration (NOAA). The Argos-4 instrument on board the GA-EMS satellite was provided by France's Center National d'Etudes Spatiales (CNES).
"Environmental testing is a critical step in ensuring that onboard systems operate as designed and without interference, and that the spacecraft will survive the harsh environmental conditions of space," said Scott Forney, president of GA-EMS. "We will now begin verification of our ground operations and perform end-to-end testing of the system in preparation for final preparation for shipment to the launch site. integration of the satellite payload, GA-EMS will operate the satellite and perform mission services throughout the satellite's expected lifetime in orbit."
The Argos-4 payload will collect, process and disseminate environmental data from fixed and mobile sensors around the world. This new satellite will be part of the Argos constellation supported by NOAA's Cooperative Data and Rescue Services program. Argos is an international program that collects data from thousands of fixed and mobile sensors and transmitters located around the world. The data is collected and distributed for use in many applications, including ocean buoy tracking, wildlife and fisheries monitoring, maritime security, as well as non-environmental uses.
"The HoPS program is intended to facilitate the placement of government payloads aboard commercial satellite platforms," ​​Forney continued. "We leveraged our flight-proven scalable architecture to tailor the platform design to effectively meet payload and mission objectives. The versatility of our design approach provides greater flexibility and scalability for a single dedicated mission payload or for multiple payloads on a single platform.In this case, the Argos-4 payload and a radiation monitoring payload are integrated onboard the satellite, providing a more cost effective solution to deliver these critical technologies in space."
The satellite is the only payload aboard Rocket Lab's Electron launch vehicle and will be launched from Rocket Lab Launch Complex 1, Mahia Peninsula in New Zealand.
About General Atomics Electromagnetic Systems
The General Atomics Electromagnetic Systems Group (GA-EMS) is a world leader in the research, design and manufacture of unique electromagnetic and electrical power generation systems. GA-EMS' history of research, development and technology innovation has led to the expansion of a portfolio of specialized products and integrated systems solutions supporting aviation, space systems and satellites, missile defense, energy and power, as well as processing and monitoring applications for critical defense, industrial and commercial customers worldwide. For more information, visit www.ga.com/ems
Media Contact
[email protected]