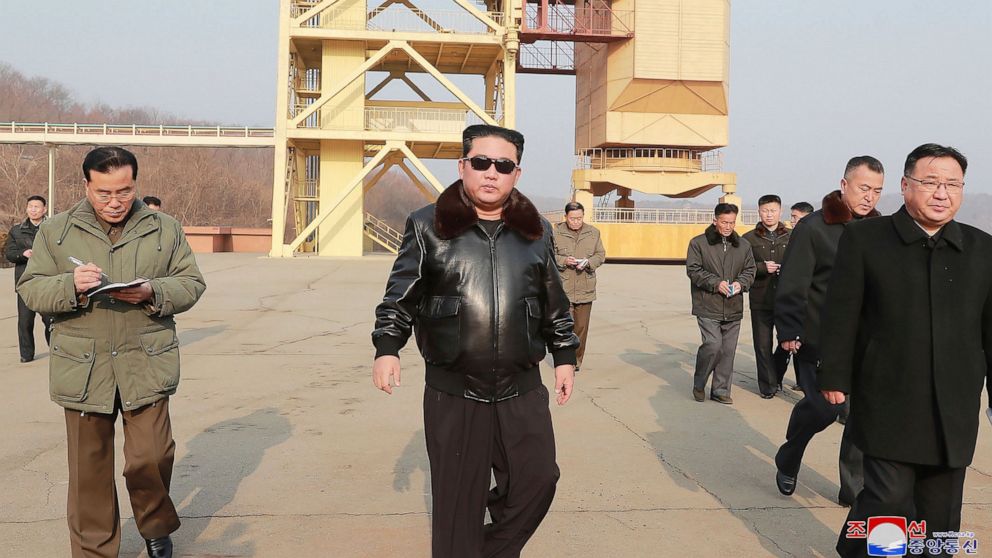 Kim seeks to extend launch pad amid concerns over ICBM firing
North Korean leader Kim Jong Un has ordered his officials to expand a satellite launch facility to fire a variety of rockets
SEOUL, South Korea — North Korean leader Kim Jong Un has ordered his officials to expand a satellite launch facility to fire a variety of rockets, state media reported Friday, as U.S. military and South Koreans concluded that the North was testing a new intercontinental ballistic missile. system.
Experts said earlier that North Korea may soon carry out a rocket launch carrying a satellite in violation of UN resolutions after recently carrying out a series of tests aimed at modernizing its missile arsenals and exerting more pressure on the Biden administration amid stalled diplomacy. Such a rocket launch by North Korea would be its biggest provocation since late 2017 and a violation of its self-imposed moratorium on long-range and nuclear testing.
North Korea's neighbors detected two ballistic launches last week in the country's first weapons fire in about a month. North Korea later said it was testing cameras and other systems to be installed on a spy satellite, but did not reveal which missiles or rockets it was using.
After analyzing those launches, the US and South Korean militaries said they had concluded that the North's two recent missile launches involved an ICBM system under development that the North first unveiled at a military parade in October 2020.
"The purpose of these tests, which did not demonstrate the range of the ICBM, was likely to evaluate this new system before conducting a full-range test in the future, potentially disguised as a space launch," said Pentagon Press Secretary John Kirby in a statement Thursday. .
Kirby said the US military had ordered "enhanced readiness" among its ballistic missile defense forces in the region and stepped up surveillance activities off the west coast of the Korean Peninsula.
"The United States strongly condemns these launches, which constitute a brazen violation of several UN Security Council resolutions, unnecessarily increase tensions and risk destabilizing the security situation in the region," Kirby said.
South Korea's Defense Ministry issued a similar assessment on Friday and said North Korea should immediately end any actions that raise tensions and pose security concerns in the region.
According to a ministry statement, Seoul and Washington decided to release the information because they believe the international community should speak with one voice in opposing the North's development of a new missile capability.
On Friday, North Korea's Central News Agency reported that Kim inspected the Sohae satellite launch ground in the northwest and ordered officials to "upgrade it to an expansion base so that various rockets can be launched to carry multi-purpose satellites".
"He stressed that it is the noble duty of our party and space scientists and technicians of our time to transform the launch pad, associated with our state's great dream and ambition for space power, into a base state-of-the-art advancement," KCNA said.
North Korea carried out two successful satellite launches from the Sohae facility in 2012 and 2016. It said they were Earth observation satellites developed under its peaceful space development program , but the UN is banning a North Korean satellite launch because it could serve as cover to test missile technology. .
Kim said earlier this week that North Korea needed reconnaissance satellites to monitor "US imperialism's aggression troops and vassal forces."
But some experts question the capability of North Korea's spy satellites because it has not released high-resolution images among recent photos believed to have been taken from space. They also say there is no evidence that the two satellites launched in 2012 and 2016 ever transmitted images.
In 2017, North Korea conducted three ICBM launches that demonstrated a range that could include the American continent. Analysts say it lacks proficiency in a few remaining technologies, such as a re-entry vehicle, to have functional ICBMs that can carry nuclear warheads.
In 2018, North Korea unilaterally suspended long-range and nuclear testing before starting now dormant denuclearization talks with the United States. The talks broke down in 2019 due to disputes over US sanctions against the North. Senior Pyongyang officials recently hinted at the lifting of the 2018 weapons testing moratorium.
Observers say North Korea could conduct a spy satellite launch or ICBM test before its big political birthday in April – the 110th birthday of state founder Kim Il Sung, Kim Jong's late grandfather One.