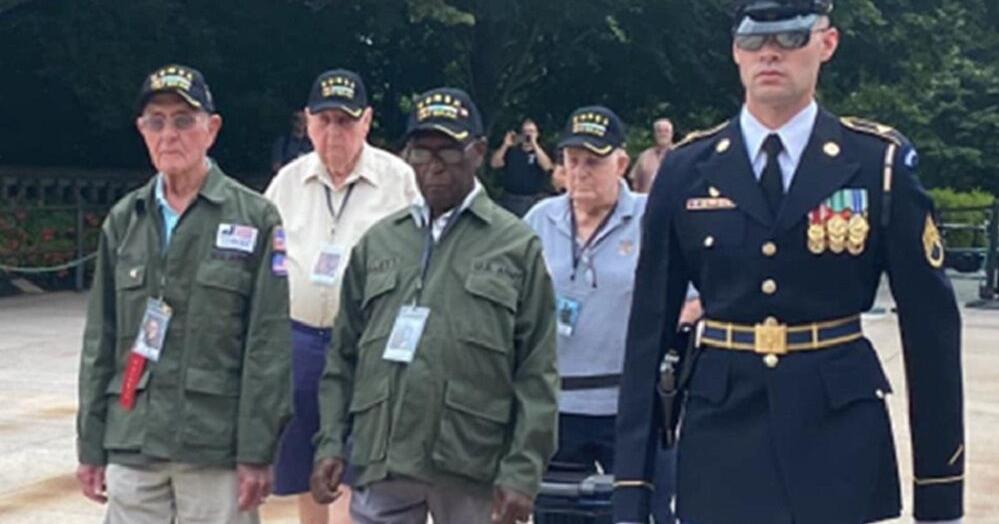 Korean War veterans attend monument dedication in DC | military scene
Fifteen Korean War veterans and 19 accompanying volunteers were among the many people in Washington, DC, last week to witness the unveiling of the new "Wall of Remembrance Monument."
KC Bertling, president of the North Alabama Veterans and Fraternal Organizations Coalition, and Chris Batte, co-founder of Honoring Veteran Legacies, and their all-volunteer team organized the "trip of honor."
"The trip was fully funded for all Korean War veterans through donations we received from community members, businesses, societies and other charities," Bertling said, adding that volunteers paid for their own trip.
While in the Capital Region, the group also attended a performance of Twilight Tattoo, a musical military spectacle at Joint Base Myer-Henderson Hall in Virginia.
Four of the veterans were chosen to lay a wreath at the Tomb of the Unknown Soldier at Arlington National Cemetery.
"It was such a dark time for everyone," Bertling said.
The new Memorial Wall is located near the Korean War Veterans Memorial, which features statues of 19 soldiers advancing toward the American flag and a wall of engravings depicting some of those who served.
The new monument was entirely funded by the Korean people, some of whom have traveled thousands of miles to show their appreciation for veterans, Bertling said.
Assented to by Congress in 2016, it includes the names of more than 36,000 Americans and 7,100 Koreans who died during the war.
As a special surprise for the veterans, notes, cards and letters that were specially prepared for them in advance were presented throughout the "call by mail" during the trip, Bertling said.
"A lot of our vets were crying while reading (the mail)," she said.
The group left on Monday July 25 and returned on Thursday July 28. Members of the public and military groups carrying flags and placards were present at the airport for the departure and return flight.
Decatur veteran Thomas Austin, a corporal in the Korean War, said it was "a beautiful trip", in large part thanks to the volunteers who "sat behind us when we watched the programs and put towels on us wet on the neck".
"They made it a very successful trip," Austin said.