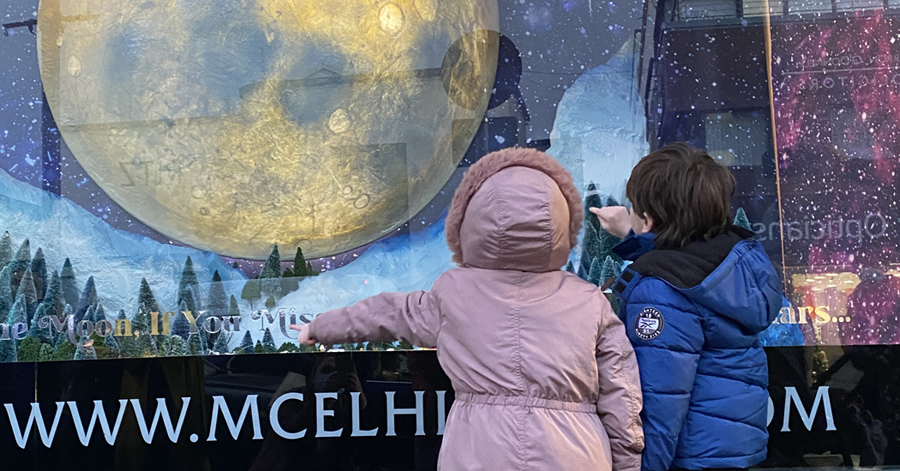 McElhinneys unveils special Christmas window "for dreamers" – Donegal Daily
[ad_1]
Ballybofey's McElhinneys was honored to unveil the 2021 Christmas window theme "For Dreamers" last weekend.
This year marks McElhinneys 50e year in business and has been a monumental year, most notably for the founder and CEO of John McElhinney. John recently received the Drapers Lifetime Achievement Award and it is thanks to John's dream and passion that this store has become the establishment it is today.
The McElhinneys creative team took inspiration from John to create the 2021 "For Dreamers" Christmas window.
"'For the Dreamers tells the story of a young dreamer we meet for the first time as they gaze out of the window at the moon they dream of someday visiting."
The essence of this window is unlimited imagination. In a world that we have overcome so much in the past year or so, we must strive to aim for the moon, and if we fall, we will always land among the stars.
Fueled by this energy, the creative team at McElhinneys set to work to make this out-of-the-world concept a reality. As always, every detail of the window has been thought out and produced in store.
This year's window contains many items specially designed to tell the story of a cosmic Christmas. A young dreamer takes us on the journey of his fantasy of going to the moon. We start by taking our flight through the clouds and pass by Santa Claus and his reindeer on their journey around the world to deliver gifts. We get a peak inside the dreamer's rocket and when we reach the moon we are greeted by Cuthberth, the robot who offers his own gifts. There are surprises hidden in every window pane, like the family of mice that mistook the moon for a giant piece of cheese. This window is a rich sensory experience with the incorporation of a strong galactic background, luminous delights, and a layering of spatial sounds to truly bring the window to life.
McElhinneys is delighted to unveil 'For the Dreamers' after a year where hopes and dreams have been our greatest asset. No dream is ever too small and no dream is ever too big! Because in the end, we are all dreamers in an endless universe.
The McElhinney Dream Team would like to thank customers for their continued support and personalization throughout this year.
McElhinneys unveils special Christmas window "for dreamers" was last modified: November 24, 2021 through Editor-in-chief
Key words:
[ad_2]